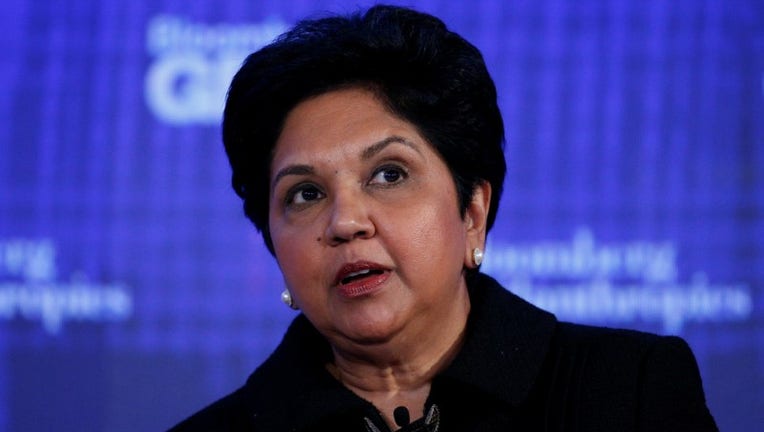 Indra Nooyi, Pepsico's Indian-origin CEO, will step down after 12 years of leading the United States food and beverage giant, the company announced on Monday.
Indra Nooyi, shown here at an event in 2011, plans to stay on as PepsiCo chairman until early 2019. She was also one of few women of color to head a major company. Nooyi's successor, Ramon Laguarta, was named PepsiCo's president last July.
She has also bolstered its portfolio of healthier offerings, which now account for almost half of its sales, compared with about 38 percent in 2006, better aligning its portfolio with evolving consumer tastes, according to Morningstar analyst Sonia Vora.
In a statement, Ian Cook, presiding director of PepsiCo's Board of Directors, lauded Nooyi for 'leading the way on corporate sustainability and responsibility, and embedding a sense of goal in everything the company does'.
Indra also tweeted, "Today is a day of mixed emotions for me".
In her 24 years at PepsiCo, she helped introduce more healthy products to the company's food and drink portfolio. She characterised PepsiCo's product range as "fun for you" (Pepsi, Lays, Cheetos); "better for you" (baked Lays, Diet Pepsi etc) and "good for you" (Quaker Oats and Tropicana).
Pompeo says Iran sanctions will be enforced
The renewed sanctions target the trade of automobiles, coal, gold and other metals, as well as Iranian purchases of USA dollars. Iranian authorities have yet to comment on them and several officials contacted by Reuters declined to comment.
China Plans Tariffs on $60 Billion of Imports to Counter Trump
Earlier Friday, a Chinese foreign ministry spokesman called on Washington to "come to its senses" and settle the dispute. The escalating dispute, with no settlement in sight, has fueled fears it might chill global trade and economic growth.
Largest wildfires in California history
Officials have confirmed that six people, including two firefighters and a woman and her two great-grandchildren, have died. The worldwide fire teams were to arrive in Redding, California, on Monday, said Cal Fire Director Ken Pimlott.
Laguarta who will replace Indra Nooyi as PepsiCo's CEO said, "I'm incredibly humbled and privileged to be appointed the next CEO of PepsiCo, and I want to thank the Board of Directors for the confidence they have placed in me with their decision".
As president, Laguarta has been overseeing global operations, corporate strategy, public policy and government affairs. "That will not change", Nooyi, 62, said in an e-mailed statement, a few hours after the United States firm announced that she is stepping down. She was frequently voted in various polls as one of the most powerful female executives in the world.
"To be a CEO is a calling", she said in 2007.
Born in Chennai, Tamil Nadu, Nooyi completed her education from the Madras Christian College and the Indian Institute of Management Calcutta (IIM-C). She joined Pepsico in 1994. Within the food industry, Nooyi is the latest female chief executive to step down, following Mondelez CEO Irene Rosenfeld last year and Campbell CEO Denise Morrison earlier this year.
Just 25 women now run an S&P 500 company, according to research group Catalyst, a level that has not changed much in the past decade even though women are half of the United States workforce.
She also fended off a challenge from activist investor Nelson Peltz, who took a stake in the company in late 2012 after the firm had downgraded its profit forecasts.