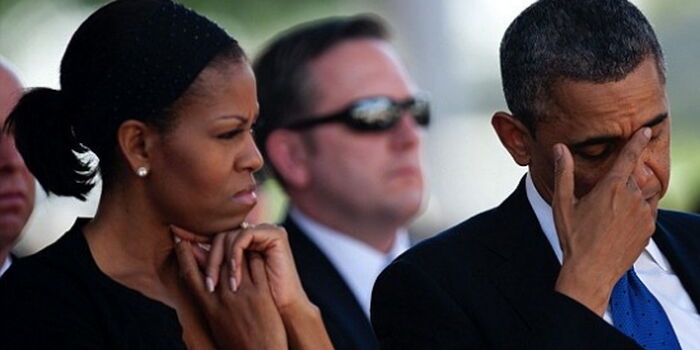 First, the lies: Obama proceeded to look straight into the camera and recite increasingly ridiculous statements, provided by the ever-helpful Kimmel.
The zinger of the night was the very last thing she was finally free to say now that she's no longer FLOTUS. Michelle Obama blasts President Donald Trump in her new book, recalling how she reacted in shock the night she learned he would replace her husband in the Oval Office and tried to "block it all out".
Jimmy Kimmel had some fun with first lady Michelle Obama in a amusing segment encouraging her to open up about things she couldn't say while in the White House.
In an interview with People, as part of the promotional book run for her memoir Becoming, Obama revealed that she wishes she could get the simple pleasure of sitting in the driver's seat and taking a auto for a spin.
China seems committed to COC in South China Sea - Mahathir
But he cautioned any further delays could risk "losing credibility" for a deal - which has already taken six years to negotiate. RCEP was given extra impetus after Trump pulled the United States out of rival pact the Trans-Pacific Partnership (TPP).
Pakistan and NZ ODI decider washed out
Taylor hit three boundaries and a six for his 43rd half century in one-day internationals. Recently, Pakistan took on New Zealand in Dubai.
John Lewis Christmas Advert 2018: A Tribute To Elton John
The new John Lewis Christmas advert illustrates one man's lifelong love affair with the piano - and our cockles are truly warmed. United Kingdom press reports the campaign cost about £7 million ($12.6 million) and most of this was spent on buying media.
"I've never eaten a vegetable".
"The whole eight years we were in the White House we used Laura Bush's Netflix password", she read. "I think he's all of our freebies", she added, only further suggesting that line is, indeed, true. Obama said. "He doesn't quite know what to do, so he starts following us, and I'm like (to Malia), 'Run fast, run faster!'" "You know, we have a teenager at home, and she makes us feel inadequate every day".
Former First Lady of the United States Michelle Obama has revealed why she hated her first trip to Kenya in her new book titled Becoming. "Barry, be quiet and hold my purse." .
When DeGeneres asked Obama if she could tell who had the bigger crowd size, Obama replied with a laugh, "I could tell", in a video shared by The Hill.